Why did your ranking drop overnight? A drastic drop like this can cripple your website, especially if most of your traffic comes from organic search results. It can be frightening if you have no idea why this occurred. Within this article, we will analyze some of the most common reasons why your rankings suddenly dropped.
Google rankings are one of the most valuable and specific sources of traffic, as people generally trust websites that get the best placements in their favorite search engine. It takes a lot of time to build links and your reputation on social networks.
But don't panic! Even though there are many different reasons why your rankings suddenly took a dive, most of them are fixable with some time and effort put into it. So, let's begin.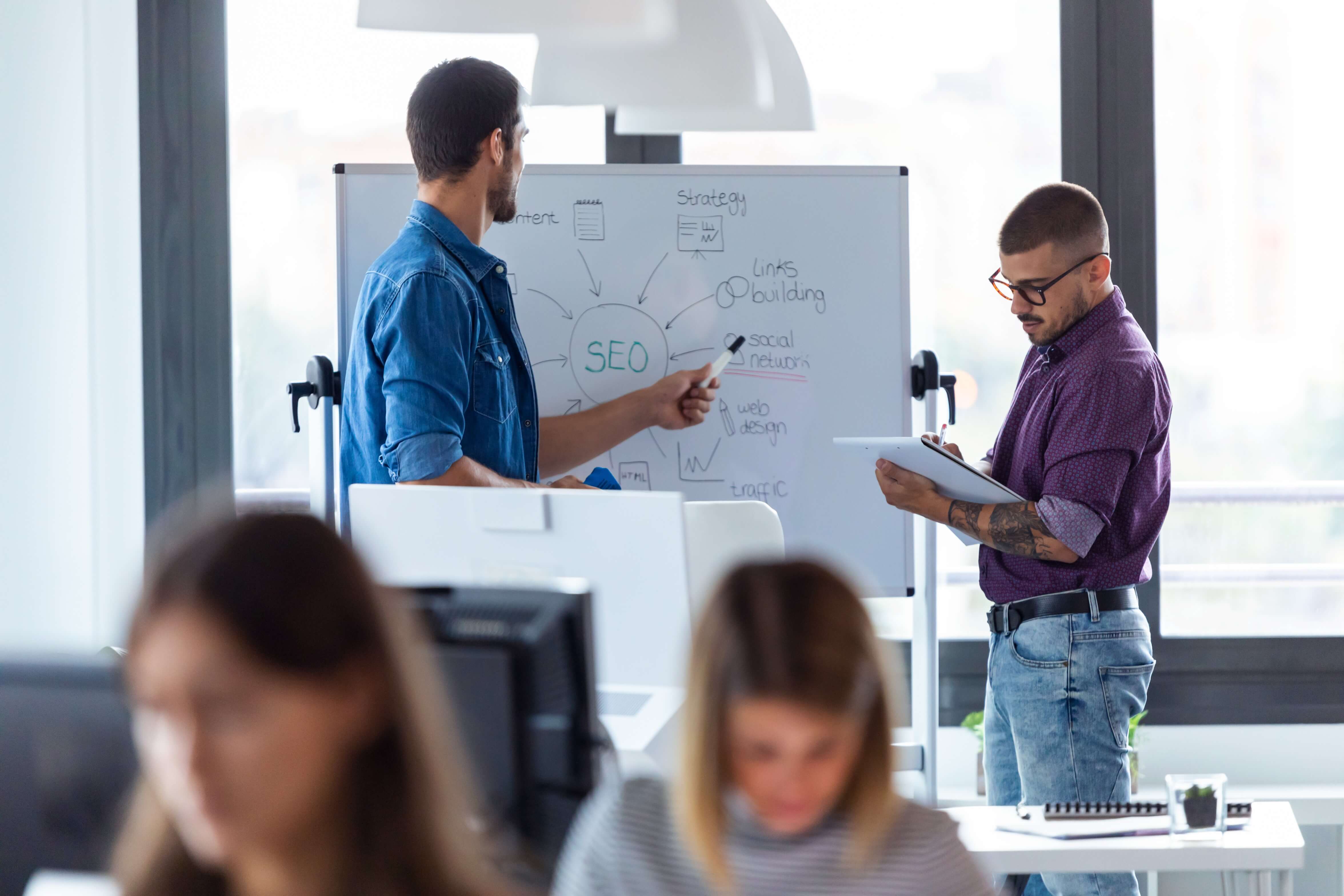 1. GOOGLE HONEYMOON IS OVER
If you have a relatively new website that is only a few months old, and you realize that you have a comfortable ranking for much of that time, it's likely that this is the result of Google's honeymoon period. This is the term for the phenomenon in which a new website has high ranking for a short period of time, before falling into its real position. This may be one of the reasons your Google rankings dropped dramatically.
This kind of volatility is perfectly normal and is to be expected. As Google is trying to figure out what your website is all about, your artificially generated boost by Google itself will fade away and put you in a more realistic position.
It takes time to establish authority in search engines as there are no safe shortcuts. Put in the work and the results will eventually come.
2. COMPETITION FROM OTHER WEBSITES
You might be doing everything the right way, but you still lose traffic, and you see a drop in your Google rankings. One of the reasons might be that your competition is doing better SEO than you are.
Track your competitors by analyzing and monitoring their activities on social media, link building strategies, and content marketing.
There are tools you can find online to help you track and monitor changes made by your competitor or choose to do it manually. Once you have a clear definition of what they have done to outrank you, do the same in a much better way.
Even though a new website will take time to build, it isn't uncommon to see a brand new website overtake an older competitor. Always be on the lookout, and never stop improving your content.
One of the tools you can use to track and analyze your website's SEO is called SERanking. Digital Agencies like ours use online tools all the time to gather important information about the current state of rankings and various improvements they can make to improve SEO.
3. BROKEN LINKS AND REDIRECTS
Broken links can be a huge problem mostly when they are essential for your website. It may take lots of time and work to manually view each of your links, but you can find some useful free broken link checker tools, which can help you detect broken links automatically.
We are showing you a Rank Tracker report, one of the tools we use regularly in our agency.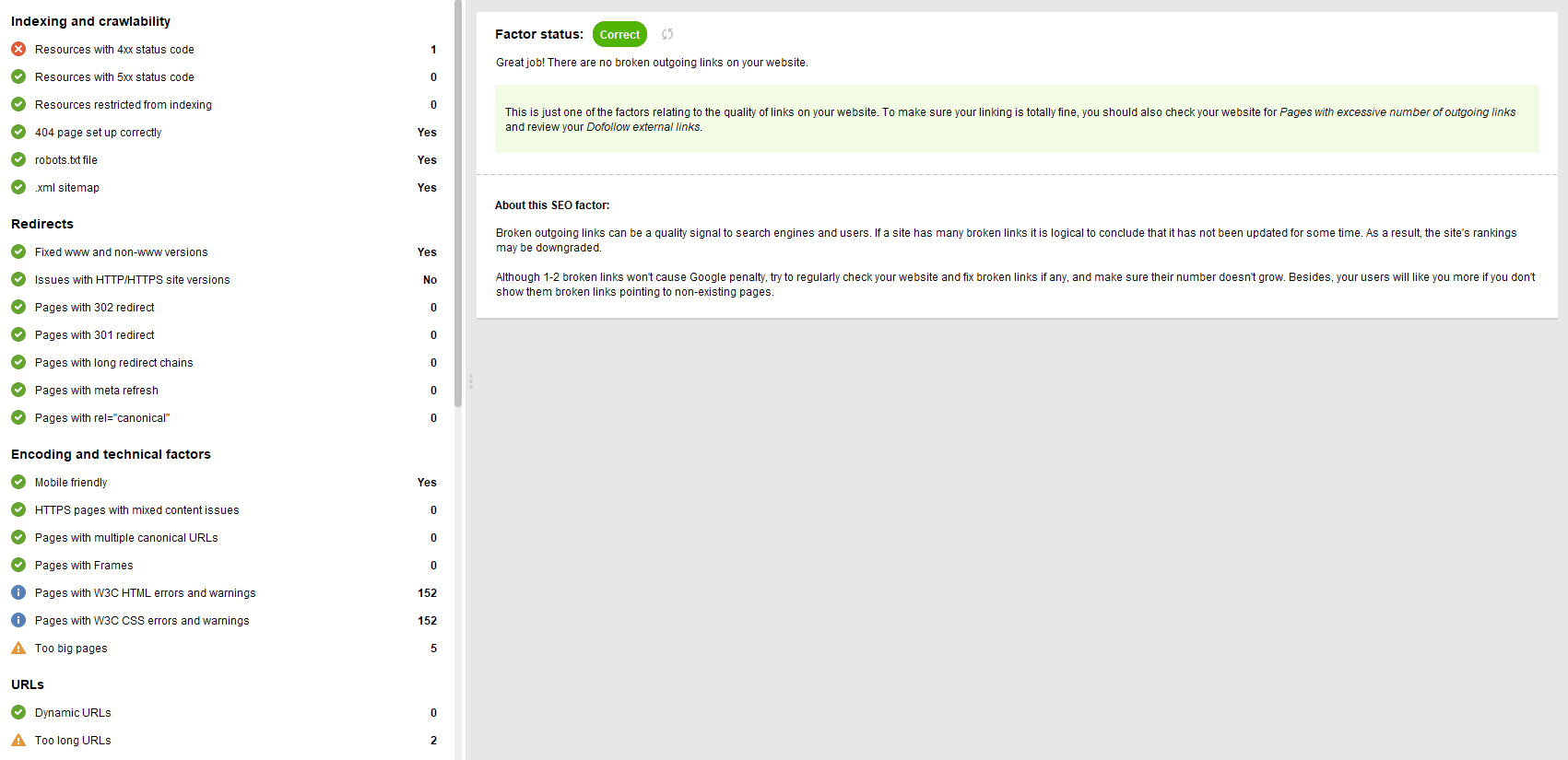 Also when you are carrying out a structural change or migrating from one server to another, you are likely to have a drop in ranking without a redirect plan in place.
4. MODIFICATIONS IN SEARCH ENGINE ALGORITHM
You have followed each and every guideline in making your content. You have eradicated all technical errors on your website. How is it possible to experience a massive drop in rankings despite all of your best efforts?
The most common reason for this to happen is a sudden change in the way search engines index and rank websites. Understandably, major search engines are always trying out new things to try and deliver the best search results to their users. Therefore, due to these often massive changes in the way their algorithms work, many websites get punished with no fault of their own. While most of these rank drops are gradual, sometimes your website will get affected severely if many of these algorithm changes are impactful on your website optimization strategy. The best thing you can do in this case is to roll up your sleeves and change the content and website structure to adapt to these new changes. Learn about the changes that have been implemented, and work toward getting your website inline with those changes.
Thankfully, these massive algorithm changes are not common. Most of them are gradual, which can also be detrimental to your search engine ranking health (but in a much more predictable manner). In any case, be on the lookout for any changes and act accordingly.
If you want to track Google algorithm updates, the best way to do that is to follow an expert website like Search Engine Land.
5. SERVER ISSUES
Temporary server outages are not uncommon, and Google does not punish websites for it. To consider it temporary, it shouldn't last for more than a day or two. In case this period is prolonged, it could have a negative impact on your search engine ratings. In case you plan a longer maintenance period over the course of several days, be sure to set the server to show a 503 error code, which notifies Google that the outage is indeed temporary.
In case you have problems with your current hosting service, check out our hosting offers, and secure quality support for your website.
If your site has problems with the server, either as a result of empty markup served to Googlebot or broken caching function, it is essential to solve any server problems as fast as you can. Check your server logs or test your website URL.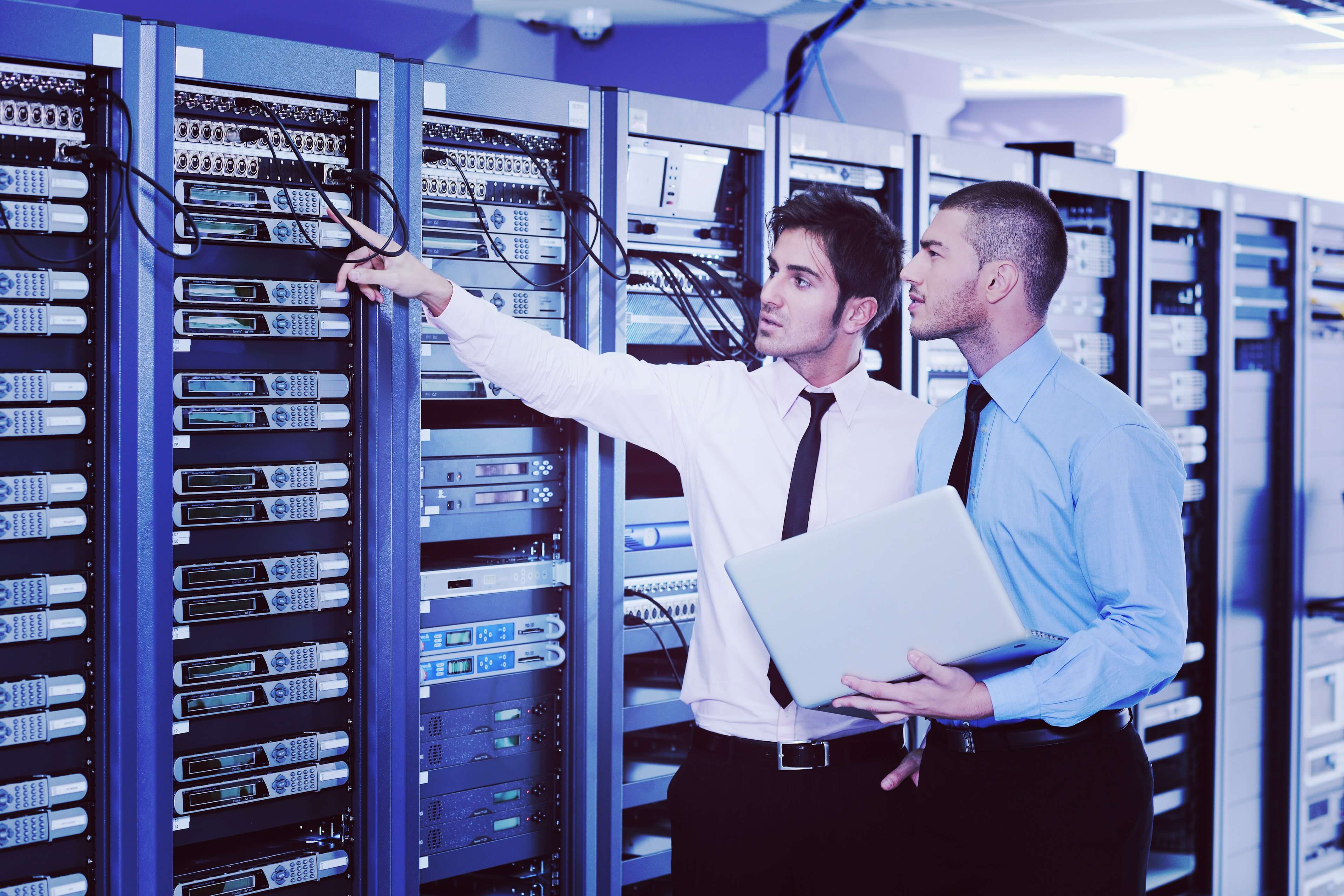 6. MALWARE
If your site is a victim of malicious programs and Google detects malware on one of its pages, it will notify and warn potential visitors. Very few people will continue after seeing a warning of this type, which may explain a significant drop in traffic and discourage both new and existing users, as well as webmasters who can potentially create a link to you or even those who have already done that. You are bound to break these links and it can have a negative effect not only on your traffic but also on your rankings.
There is a wide selection of tools for malware removal available on the market. Once you deal with this issue, Google will then remove the warning notification.
Some of the most frequently used services for detecting and removing malware are:
7. DIFFERENCES IN GEOLOCATION
Your website ranking varies from one geographic area to another depending on where the search was done. If you check your ranking in a geographic area, you will need to check them in several other areas to get a better understanding of your ranking.
Keyword ranking might not be the same for all geographical areas. Have you ever noticed that the results obtained for a specific search might be utterly different from those of another person performing the same search?
If you search while logged in to your Google Account and then repeat the search after logging out, you'll get different results. This is because Google sees and takes into account the sites you visited before, or where you are right now, as well as the device you use before displaying the results of your search.
8. GOOGLE PENALTY
Google sanctions can be automatic or manual. You will probably be aware of manual penalties, but you will not always know what the target was if the cause is algorithmic. These penalties sometimes take some experienced SEO professionals by surprise.
If Google finds you to have modified or influenced search engine results artificially, your website is misleading, or the quality of your website is relatively low, then this might lead to penalizing your website, which would be detrimental to your performance within the search engines.
Google has recently decided to crack down on websites that are not following its guidelines in an effort to exterminate the content of poor quality. Using some older SEO practices that used to be just fine, can now cause your website rankings to take a big hit.
Some of the common reasons for this occurrence are keyword stuffing, buying or renting links (artificial link building), using duplicated content or metadata, sparse content, or even abusing anchor text. We will cover all of these issues (and much more) in this blog post.
It can be hard to recover from Google penalties, but if you got hit with one don't panic. Start resolving issues one by one while making sure you follow up-to-date guidelines. Only once you are certain you did all you can, file a request to Google for a manual review and hope for the best!
9. HIGH BOUNCE RATE AND POOR USER EXPERIENCE
It is a bad user experience to have a website with annoyingly long load time. This causes visitors to lose patience and leave.
Make sure to have your website loading time tested. If you find out that it is very slow, you need to take action to rectify it in time. This can sometimes be caused by images with high file size, excessive JavaScript, as well as HTML and CSS.

Make sure you used Google's PageSpeed Insights tool which can tell you more about your website speed and improvements you will need to deal with.
Make sure that your website is well optimized for mobile devices and that the usability of the website is good. PageSpeed Insights will remind you that some of your elements are too close to each other for a user to click, which can also result in a ranking drop.
10. YOU ARE USING KEYWORDS WRONG
Your website might be running a poor SEO strategy, or you are ranking your website using the wrong keywords. Yes, although keywords are not in use or popular like before, a lot of search engines still rely on them when determining what your website is all about.
However, wrong keywords can deter the progress of a website being well ranked by Google and visitors will rarely find your website within search engine results. Do an analysis and base the choice of keywords on that for the most optimal results.
Choosing the right keywords is not the end of it. People often use the keywords too much in their content, which leads to overstuffing. Using a particular keyword too many times in the text is not going to get you very far. It will cause the opposite effect - you will get penalized by Google. What you should do instead is to try and incorporate the keywords in a natural manner. This will improve the quality of the content, both in the eyes of readers and search engine crawlers.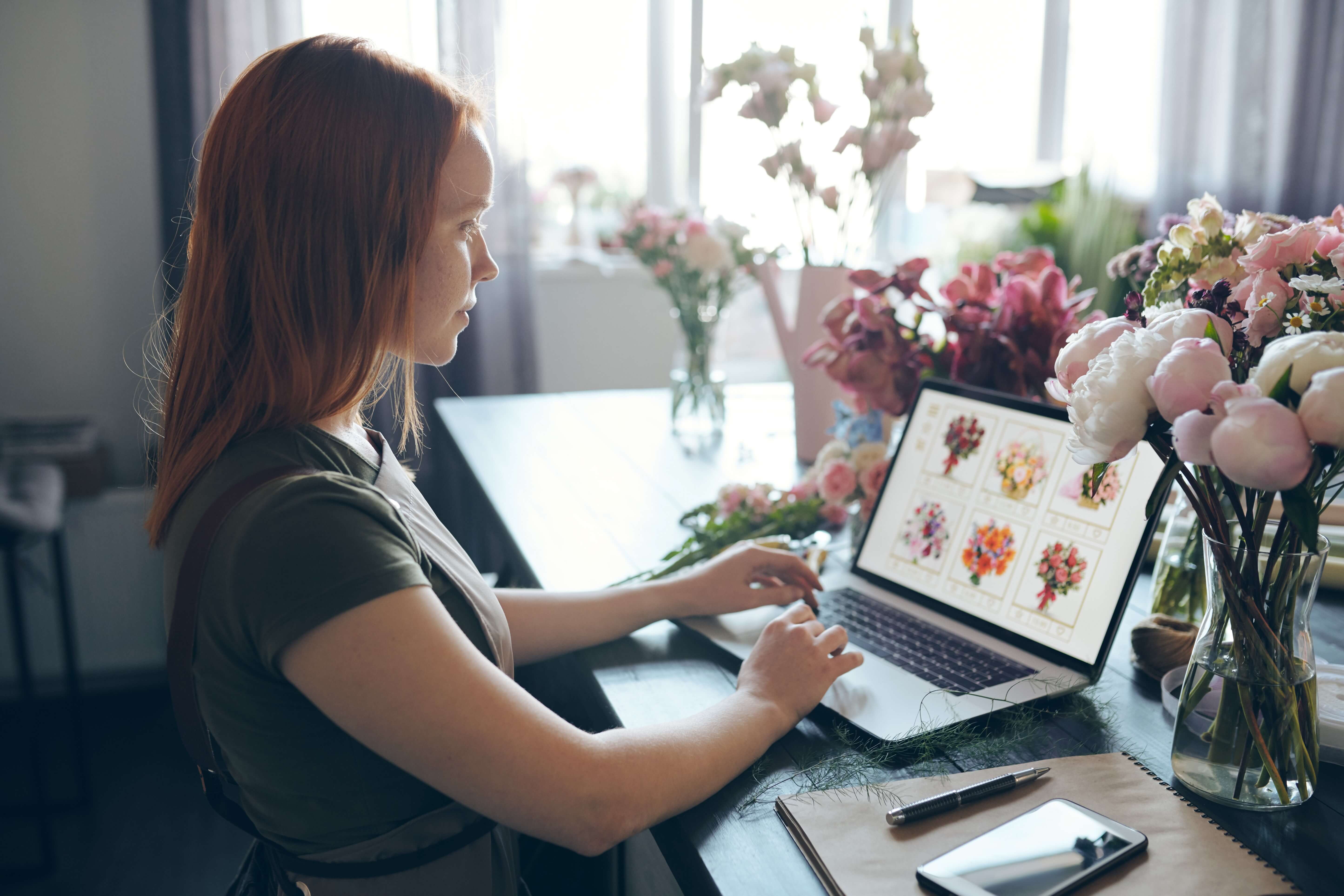 11. MISSING OR MODIFIED INTERNAL LINKS
Removing or moving internal links on web pages can bring down your ranking. In a situation like this, your next step depends on the importance of these changes. If you want to keep your new internal link structure this way (like renewed navigation), you are probably already sure that your ranking will return to normal, or even improve. If you did not intend to modify your internal links, it is of course, in your best interest to restore them to their previous state.
However, the "previous state" is not very precise: since the restored links will be technically new, they will not be as effective as the old links. You may need to place more internal links in addition to those you are going to restore.
12. DUPLICATE CONTENT ISSUES
If you are into blogging and trying to create fresh content fast, but you are copying the content of the other websites, you can be hit by a penalty from Google. Because of the duplicate content issues, your overall website ranking could drop.
Try to write good quality and reliable content. Have in mind that the more time you focus on the content, the quality will improve.
If you are struggling with popular topics, try a different approach, and determine niched topics with less competition, that can put your website on top of the rankings.
As a good tool for finding "long-tail" keywords, which are easier to optimize, we recommend using Ubersuggest.

13. ISSUES WITH CANONIZATION
Canonization issues are in many ways similar to duplicate content. It means that two versions of a domain name are indexed, or one domain name is indexed with HTTP and HTTPS. As anyone who links to your website can use an improper URL and cause this issue for you, it's not always your fault. The best thing you can do in this situation is to try and reach the people responsible and have them correct the URL.
14. LOSING A GOOD QUALITY BACKLINK
Let's say you have a link pointing back to your website from a very reputable source. With that link, you gain domain authority, and with it, your rankings go up. If for any reason, the webmaster of the reputable website decided to transform the link into nofollow (or completely remove it), you suddenly lose all domain authority you received before this happened. This domain authority decrease will most certainly have an impact on your search engine rankings.
15. NOT HAVING ALL PAGES INDEXED
In order to get high rankings within search engine results, Google needs resources. A lot of them. To feed the search engine content and get back on track, your website's pages need to be crawled and indexed.
Make sure you have done all you can to enable uninterrupted crawling of your website, so Google and other search engines can gather as much data as possible. Sometimes some of your pages will become de-indexed for various reasons. This will have an impact on your ratings, so be sure to get on it as soon as possible. Check for any occurring 404 errors or nofollow tags. Fix them if you find them.
Using Google Search Console tool is a great way to check for any crawl errors or pages which aren't indexed.

16. RANDOM POSITION CHANGE OR "GOOGLE DANCE"
Sometimes websites experience what is called the "Google Dance", where website rankings are all over the place for a while. This random juggling of keyword rankings does not last for too long though, so you can expect to see everything back in its place sooner or later, without having to intervene.
17. WATCH OUT FOR ANY BAD BACKLINKS
Even though you've taken the time to build up a good quality backlink profile full of relevant and reputable link sources, getting a bad backlink from either a source that is not relevant enough to your brand or simply from a source with a bad reputation, can do a lot of damage to your rankings.
In case you built the problematic link or someone did it on their own, a simple fix is to contact the webmaster of the website in question and ask for the link to be removed. This can be done manually, but you should be using a tool like Link Explorer, or any other tool like it.
Any time your backlink profile structure is modified, Google will check and try to determine your authority based on the collection of links you have acquired. Based on that, not only bad links can drag your ratings down. Losing some of the links from a reputable source of high authority can be detrimental to your rankings as well.
As you can see, a lot of these issues are created by someone out of your sphere of influence. This can be exploited by a competitor, who can post malicious links to your domain with the intent of lowering your domain authority. If you suspect this is the case, use the link checking tool to gain insight.
A very reliable tool we use for backlink analysis is called LinkAssistant.

18. MAKING NEGATIVE CHANGES TO YOUR CONTENT
Good quality content is what will rank you higher in search results. By good quality content, we mean that the material you are writing about is long, informative, and original. Text that is understandable to readers. The moment you start to rush the work done in this department is the moment your rankings will start to go down gradually. Google will notice the leniency in this regard and bring your authority down. Always follow the modern practices to keep this from happening.
Make sure to not have duplicate content on your website or copy any content that already exists on the internet, to avoid incurring the penalty. Keeping the same cadence in releasing new content is very important. If you are posting three articles per week during a prolonged period of time, then drop the frequency to just one article, or stop writing altogether for a month or two, you will suffer a hit on your website's page rank.
19. CHECK YOUR FILES
Your robots.txt or .htaccess files could cause a problem if unwanted changes are made to them. You could accidentally tell crawlers to completely ignore a big portion of the website, create redirects, or even 404 pages. Double-check the files to make sure everything is in order.
20. FAKE LINK BUILDING
Make no mistake - by renting, buying, or arranging link exchanges way too frequently, you are sure to get a penalty by Google. To avoid this and make a positive impact on your rankings, be sure to build your link network fairly. This includes contacting webmasters of a reputable website or guest-posting.
There we go. Hopefully, we managed to shed some light on the ranking drop you might have experienced, and give you some insight into how to deal with the problems that lead to this. Always try to identify the problem first, after which you should search for a step-by-step solution to fix the issues.
The best tactic in marketing and building your website's content is to be informed at all times. Stay a step ahead, be cautious, and avoid temptations of any shortcut to success. That way you can enjoy your gradual climb in SERPs and skip the headaches caused by pesky SEO problems.
- - - -
Do you require help with your SEO and improving Google rankings?
Leave us a message, and we will do a complete SEO evaluation of your website.